Click on one of the tabs below to explore how we can help your troop earn a badge or patch.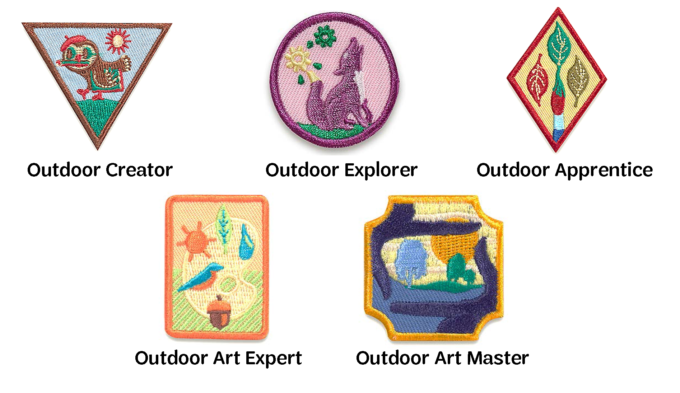 Outdoor Art Maker
Get ready to explore the outdoors and use what you see and hear to make different kinds of art projects.
Eco Learner
Nature gives you many gifts! Now learn some ways you can give back by protecting nature.
It's Your Planet — Love It! Journey: Between Earth and Sky
Girls take a Journey to explore the natural world around them. They experience all the great things about their community and learn to use their own special skills to help people and the Earth.
Outdoor Art Creator
As an artist, you can walk outside and see colors, shapes, and ideas for things you want to create. Find out how you can make your own art outdoors and have fun doing it!
Eco Friend
Find out how to treat outdoor spaces with kindness and teach others how they can, too.
Outdoor Adventurer 
Ask girls what happens when they invite a friend to climb the tallest hill they can find, or buddy up to take a walk around their neighborhood at night. There are so many amazing adventures waiting for girls. Get them ready to explore the great outdoors!
Bugs
Bugs help us in lots of cool ways. Explore the world of bugs and learn more about these little creatures that do so much.
Hiker
Girl Scouts love to sing hiking songs, pack tasty snacks, and hunt for sounds of animals and birds. Here's what you need to know to encourage girls to become a Brownie hikers. Get ready for adventure!
It's Your Planet — Love It! Wonders of Water
Enjoy some wonder-filled adventures as girls learn to love and care for a precious resource—water! Investigate the science of water and its importance in the world and team-up to protect it in our community.
Gardener
Girls dig their hands into the earth and spend time with soil, water, and sunlight to find out how to help life grow from a tiny seed. At the end of earning this badge, they'll know they can make their own garden no matter where they live.
Flowers
There is more to a flower than just good looks; without flowers, plants could not make seeds and scientists think the world would be much drier (and a lot less pretty). Girls will dig up more flower secrets in this badge.
Outdoor Art Explorer
Let nature be your inspiration as you explore, create, and design different kinds of art.
Animal Habitats
Imagine meeting a monkey or kicking up dust with a kangaroo. These animals live in the wild, so we don't get to spend time with them in their natural homes—their habitats. But that doesn't mean we can't find out more about where they live, how they play, and how we can help them thrive.
It's Your Planet — Love It! Get Moving!
Girls will investigate and innovate as they explore their own energy, the energy of places and spaces, and the energy of getting from here to there. Meet energizing people and "get moving" to get others moving, too!
Outdoor Art Apprentice
Get ready to observe and collect things outdoors that will drive your art and creativity—from colors and patterns to landscapes and wildlife.
Trees 
Girls grab their naturalist hats and get ready to get to know trees—from the shade to the science, the fruit to the forest and the legends to the lumber. To know trees is to love them.
Eco Trekker
Plan and take an outdoor trek—with minimal environmental impact.
It's Your Planet—Love It! Breathe
Girls explore ways to improve the world's air quality while supporting and nourishing their own abilities as leaders who are aware, alert, and able.
Outdoor Art Expert
Get ready to become an outdoor artist as you connect with nature and create something helpful to the environment. You'll learn how to see nature with an artists eye and find ways to express yourself.
Voice for Animals
As pet owners, horseback riders, and consumers of beauty products, clothing and animal food products; our relationships with animals play a big role in our lives. What are the specifics of the complex relationship between animals and humans? If girls want to know more so they can make informed choices and help others make them, too, this badge is for them.
Eco Explorer
Become an eco explorer as you get hands-on experience with environmental issues and help make positive changes to the environment.
It's Your Planet—Love It! Sow What?
Have girls explore who they are and their core values, including the ways they care for others. When she's earned this award, she'll know how to grasp an issue by the roots and organize a team to work together to sow the seeds of sustainable change.
Outdoor Art Master
This is your chance to bring art and the outdoors together to get inspired by the beauty in nature and use that inspiration to get creative. Roll up your sleeves and dive in!
Eco Advocate
Discover a nature issue that's important to you, find solutions, and make a difference.
Water
Water surrounds us, sometimes in such quantities that we forget how precious it is. Water is both familiar and mysterious. It exists as a liquid, solid, and gas. It falls from the sky and exists deep within the earth. Water can nourish us and challenge us. For this badge, girls experience the bliss of water.

It's Your Planet—Love It! Justice
On this Journey to justice, girls explore environmental justice (and injustice) from many angles including science, math, and decision-making. Ultimately, they can create and present their own unique definitions for justice!
---
Our Girl Scout Gallery