A Prayer for Earth Day
Opening Song: "Creation Calls"

Opening Prayer: Good and gracious God, I thank you for the beauty of creation. At this difficult time in all of our lives help us to remember your love and care for each of us. I have time, now, so help me to use it wisely. Gift me with the sight to see the violets popping up in the grass; to gaze in wonder at the myriad shades of pinks and reds of the redbud trees; to marvel at the colorful tulips and yellow forsythia; to look closely at the green leaves emerging on trees everywhere. Help me to remember that suffering precedes Resurrection and that each day you are calling me beyond myself to imagine Earth as you created it to be. I ask this in the name of your son, Jesus. Amen
Reading 1:
"In one way or another, God provides all that we need to live on the earth – plants and animals for food, fibers for clothing, clay and stone and wood for shelter. At the dawn of Creation, it was the earth that stood as the perfect expression of God's love and care for humanity. There was a garden filled with fruit, an ocean filled with fish, a sky filled with light. There was no human need that could not be met through God's creation. And then God handed it over to humanity, asking that we till the fields and care for the animals and have dominion over all that God created. There was a perfect interdependence between humanity and the earth – as humans cared for the earth, the earth would care for us." – Carla Barnhill
Reflection: An Ecological Examination of Conscience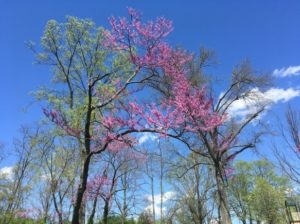 Pray for the gift of wisdom.

Pray that your eyes may be opened to all that you will see in your environment today.

Simply rest in God's presence.
Thanksgiving and Gratitude
What are you thankful for in creation today?

How will you show your appreciation for nature today?
Reflect on Today
What in nature reflects the beauty and blessing of God's image for you today?

Where are you most aware of God's gifts in creation today?

Stop during the day to look at the beauty around you?
Where Are Improvements Needed?
How many times do you walk from one place to another and not even notice evidence of God's gifts?

What can you do each day to remind yourself to stop and breathe in and out slowly reminding yourself of God's presence?

What commitment are you willing to make?

Pray for the gift each day to be open to all that creation has to offer you.
Reading 2:  
"The urgent challenge to protect our common home includes a concern to bring the whole human family together to seek a sustainable and integral development…Humanity still has the ability to work together in building our common home. Young people demand change. They wonder how anyone can claim to be building a better future without thinking of the environmental crisis and the sufferings of the excluded." (Laudato Si' 13) "I urgently appeal, then, for a new dialogue about how we are shaping the future of our planet. We need a conversation which includes everyone, since the environmental challenge we are undergoing, and its human roots, concern and affect us all." (Laudato Si '14)
Video Reflection: Earth 
Pledge of Commitment to Protect and Heal God's Creation
I promise to renew my covenant with God to care for Earth and all creation.
I promise as a follower of Jesus to commit myself anew to heal injustice and poverty.
I promise to stand against all threats to life.
I promise to seek some new beauty each day and listen as God speaks to me through creation: the sunrise and sunset, the squirrels and birds, the flowers and trees, the sun and moon and stars, the creatures that crawl and the many other forms of life that surround me.
I promise to answer God's call to reverence all creation.
-Prayer adapted from Prayers to Care for Creation, by the USCCB
Closing Prayer:
May this 50th Anniversary of Earth Day be a time of reflection for me. May it rekindle in me the desire to live in harmony with all creation. May your spirit move me into action as I seek to live out your call to justice and faithfulness. I ask this through your Son, Jesus. Amen
Closing Song: "For the Beauty of the Earth"