Please Note: If you are looking for information about starting a bench program for your organization, please contact GreenTree Plastics.
Remember: "Every cap or lid that goes into a bench does not go into the landfill"
Bottle Caps to Benches
Working with the Girl Scout troops that visit EarthConnection, we are excited to announce our Bottle Caps to Benches project. Our goal with working with the Girl Scouts is to encourage them to become better stewards of our environment. We hope to show them that recycling can make a difference. Our plan is to collect bottle caps and lids to recycle into a bench or benches to be placed at EarthConnection. The troops will be responsible to assist in collecting, washing and weighing the bottle caps/lids. 
"Every cap or lid that goes into a bench does not go into the landfill"
We will be working with Green Tree Plastics. They are out of Evansville, Indiana; and they started an AMAZING program called ABC Promise Partnership which allows kids' to recycle plastic bottle caps and lids into benches for their communities.  It's an exciting teaching tool wherein plastic bottle caps are transformed into benches that will last a lifetime. The true value comes from the profound experience that children can make a difference! They can see, sit on, and donate to their community the very results of their work. This is the most-perfect-real-life example of SUSTAINABILITY and it happens quite naturally as the kids can't wait to share the story of their bench. Their enthusiasm engages ALL those around them in recycling… their parents… their grand parents… their neighbors… the next generation.


If your troop is interested in this project please contact EarthConnection at scearthconnection@gmail.com or by calling 451-3932.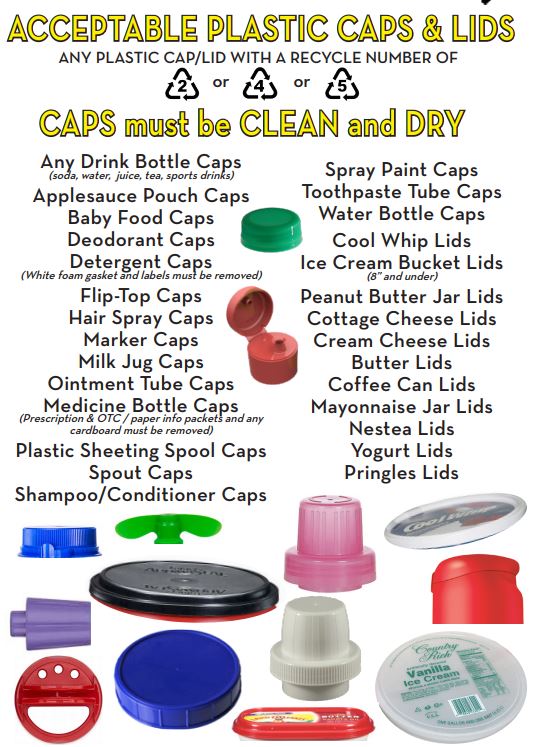 For an additional list and pictures of items that are acceptable and what is not please download the flyer from Green Tree Plastics – Click Here