Angel of the Amazon
We are all called to care for God's creation. For some of us it might involve a minor inconvenience such as learning to recycle or to remember to carry our reusable bags to the store. For others it involves the ultimate sacrifice – one's own life. This year we are celebrating the 15th anniversary of Sister Dorothy Stang who gave her life to safeguard the land of the impoverished of Brazil.
Sister Dorothy Stang, a Sister of Notre Dame de Namur, worked for more than 30 years in the Amazon rainforest of Brazil. She opened schools and offered classes in religious education for children and adults, but the heart and soul of her work was empowering local indigenous peoples and small farmers to secure land rights and engage in sustainable development projects. According to Sr. Mary Alice McCabe, SND, who also works in Brazil, "Sr. Dorothy was with the excluded migrant farmers in their constant, futile search for a piece of land to call their own. She persistently pressured the government to do its job of defending the rights of the people. She never gave up. She never lost hope."
On February 12, 2005, while walking along a muddy Amazon jungle road attempting to halt illegal logging where land sharks had interests but no legal rights, she was shot and killed. Authorities believe that the murder was arranged by a local rancher and that a consortium of loggers and ranchers who wanted to develop the land for their own purposes contributed to the bounty in an effort to silence Sr. Dorothy. Her murder had the opposite effect with the President of Brazil, Luis Inacio da Silva giving the land in question, more than 22,000 acres, for sustainable development to the local farmers whose cause Dorothy had worked for so tirelessly. Today she is known as "the Angel of the Amazon" and is revered, not only by the local farmers, but by people everywhere who work for justice.
Sister Dorothy's death is a clear reminder to all of us that we are called to an ecological conversion; a conversion that enables us to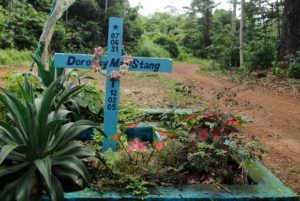 realize that we cannot separate our spirituality from the care of creation. They are integrally connected and urge us to actively make that connection by our words and actions.
Pope Francis reminds us in Laudato Si' that "A true ecological approach always becomes a social approach; it must integrate questions of justice in debates on the environment, so as to hear both the cry of the earth and the cry of the poor…Everything is connected. Concern for the environment thus needs to be joined to a sincere love for our fellow human beings and an unwavering commitment to resolving the problems of society.
Pause for a moment today and consider the following:
To commit to living more simply

To learn to distinguish between wants and needs

To recognize your own gifts and talents

To see yourself as an integral thread in the tapestry of creation

To learn humility and trust

To accept the pain in your own life and that of others

To truly understand the meaning of "the common good"

To be just in your decision-making

To work for the most vulnerable in your midst

Top allow yourself to be transformed

To give without counting the cost

To be merciful in your actions towards all of creation

To bring hope and peace into your environment

To take time to pray daily to know what God is asking of you

To desire what is good for all God's people and creatures

To see clearly the beauty in all of creation

To work for peace and sustainability right where you are

To reach out to others that you might work together to create a better world for all

To help build the kin-dom of God

To speak for those who have no voice
Ask yourself:
What is God asking of me?

How will I show by my words and actions that I truly care for the vulnerable in society who are most affected by climate change?

What am I going to do today to integrate my prayer with my actions?